Title
Red Eclipse
Style
Action
Type
fullgame
Author
Red Eclipse Team
Added
30. 1. 2013 14:19:54
Red Eclipse is a single-player and multi-player first-person ego-shooter, built as a total conversion of Cube Engine 2, which lends itself toward a balanced gameplay, completely at the control of map makers, while maintaining a general theme of agility in a variety of environments.

Available for Windows, Linux/BSD and Mac OSX.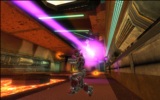 Download
Length 500 mb

alternate download 1



---
Download time: 33.6kbps - 2032 min, 48kbps - 1422 min, 64kbps - 1067 min
128kbps - 533 min, 256kbps - 266,7 min, 512kbps - 133,3 min