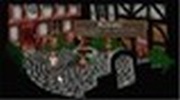 FULL GAME: LURE OF TEMPTRESS
Added 4.3.2005, size: 1 MB
An Old but gold adventure game. The product has a great story. Walk thgrough the jail,the castle and the caves. Meet the dragon and save the kingdom. Lure of the Temptress was Revolution's very first adventure game and work began on it in 1989, even before Revolution's inception as an actual games development company. From the start our aim was to consider the contemporary adventures of the day and then bring something new to the genre.
The game is 2D and you may have a trouble with sound. Use THE ARROWS, MOUSE to move, LMB -look at, RMB - use. IMPORTANT: Someone said that when the game starts you have to restart the game (via the menu) to bypass the copy protection system, but I did not and it ran fine.
Download English - link 1, French - link 2 ( manual included)) , German- link 3 (manual included).
REQUIREMENTS: PENTIUM processor, 16 MB RAM, 8 MB VIDEO CARD
69%